Tuesday, September 3, 2019
I am at home today, waiting for Hurricane Dorian to decide what it wants to do. Earlier in the week it seemed like it was going to be an awful storm, but over the last couple of days it has moved significantly offshore. So, I am hopeful that it will not be too bad. I was planning to go to EPCOT on Thursday, but the storm has slowed down so much that although storm damage is unlikely to ruin my trip the delay might. If the storm takes too long to go through, my clinic will force me to have dialysis on Thursday and that would ruin my trip. I will keep my fingers crossed.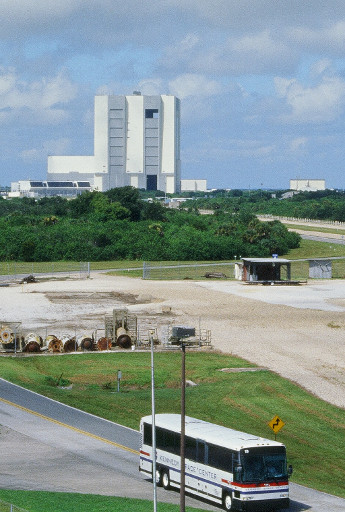 In the meantime, I got the scans back from my August 24 trip to Kennedy Space Center. This time I took their "explore" tour. This tour is a bit shorter than the "early space" tour I took several weeks ago and it is definitely not as good a tour, but it is well worth taking. It is a much extended version of the normal bus trip that takes you to the Saturn V Center and, instead of pre-recorded presentations, you have a very knowledgeable guide. Along the way, we stopped at two different areas where the public can view launches. This gives some nice long-distance views of the facilities, but none of the close-up views of equipment and facilities that you get in the early space tour. Our final stop was a pad where the old Apollo-era tracking telescopes were mounted. There is not much left there except for an abandoned concrete pad with a pile of sandbags and some commemorative posters. Like all the Kennedy Space Center tours, it drops you at the Saturn V Center in the end. Pictures are in the KSC gallery.
Sunday, July 7, 2019
On Saturday, I took the "early space" special-interest tour at Kennedy Space Center. I got to the visitor's center early, so I was able to take the rocket garden tour, see the Mars exploration presentation, and one of the IMAX movies before the tour started a bit after noon.

The early space tour is a three-hour bus tour around the old launch areas on Cape Canaveral. The tour covers space history from the 1950's through about 1968, after which launches moved to the newer Kennedy Space Center area. We got off the bus several times to see interesting things up close; we were even able to enter two of the old blockhouses from which launches were controlled. One was launch complex 26, where the Explorer 1---America's first satellite---was launched on January 31, 1958, the other was the site of Alan Shepard's launch on May 5, 1961.
Next to the Explorer I blockhouse is a nice little museum of early space flight. They have a Goddard-style rocket and models of several other early rockets including the successive versions of titan missiles. I bought a little card for one dollar that has a small rusty bit of metal from the gantry where Explorer I was prepared for launch! There is also a Project Gemini capsule that was actually in space twice (both times unmanned). The rocket garden in back of the museum was a bit sparse; several of the exhibits were damaged in the last hurricane and are still being repaired.
We then traveled up the Cape past what they call "missile row" which hosted many of the early launches. Our tour guide was excellent, providing many details and anecdotes about early U.S. space flight. We stopped at a small memorial to the Mercury 7 astronauts. We also stopped at launch complex 34, the site of the fire that killed Gus Grissom, Ed White, and Roger Chaffee on January 27, 1967. There is a small memorial kiosk that describes the men and their mission.
The tour ends at the Saturn V center, but I was pretty tired at this point. I looked around for a bit, but the new lunar module exhibit is not open yet and I have seen the Saturn V center several times before, so after a short stay I hopped on a bus back to the main visitor's complex.
The early space tour was a wonderful trip back through the early days of the space program. It was a terrific, if tiring, day. I heartily recommend it to anyone interested in space flight. It might be a little long for some small children, but our tour did have a couple of them and they seemed to do fine. Pictures are in the KSC gallery.
Wednesday, June 5, 2019
Just a quick update; color pictures from Crane Creek Promenade are up (head to page 2).
Sunday, June 2, 2019
More photographs today! I developed a roll of color film from last-week's trip to the Brevard Zoo. This is the first time I have tried Portra 800; the extra speed was definitely welcome in the shady parts of the zoo with the relatively slow lens on my Fuji GW645Zi medium-format camera. The negatives look a bit thin; I am not sure if this is normal for Portra 800, or if my development was a bit off. Anyway, the scans came out fine. They are posted starting on page three of the Brevard Zoo gallery.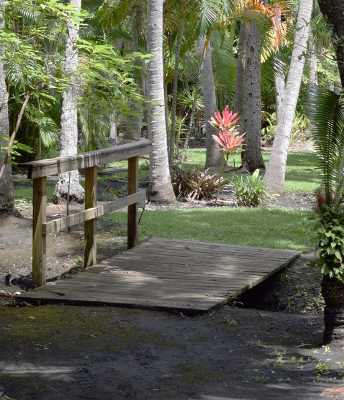 Then, today, I finally found the time to head down to the Florida Institute of Technology's Botanical Garden. The garden is quite nice. There are lots of convenient benches; it would be a great place just to sit for a while, maybe even read a book. The entrance off the Babcock street parking lot has a wonderful covered bridge and there is also a quaint old school house. There are not a lot of flowers in bloom today, but there is a lot of colorful foliage and a nice babbling brook winds through the garden. I will definitely go back now that I know where it is. I did not spend a lot of time there today, but I timed my visit just about perfectly; it started raining just as I started to drive back home. The pictures are in a new gallery here. I will definitely go back soon.
Thursday, May 30, 2019
Last Saturday I loaded some black-and-white film in my old Pentax camera and headed out to Crane Creek Promenade. I heard there was an old railroad trestle there that might be interesting. You are also supposed to be able to spot mantees there, but I did not see any. On Sunday I developed the film, along with a roll from the Lomography "simple use" camera that I took to EPCOT back on the nineteenth. (Basically, the "simple use" camera is an easily-reloadable version of those plastic, disposable cameras you can pick up at the drug store.) The Crane Creek Promenade pictures are here. The EPCOT pictures have been added to the tail end of the Disney Weekend gallery.
Tuesday, May 21, 2019
Last weekend I booked a hotel and headed back to Walt Disney World. I usually just go for the day, driving out in the morning and back in the evening, but, with over an hour of driving each way, it makes for a lot of travel time. This time I drove out Friday night after work and drove back Sunday afternoon. It was much more relaxing! I would have loved to stay at one of the Disney resorts, but I just can't stomach the high prices of those rooms. I found a nice, resonably priced, hotel less than fifteen minutes from the parks. It worked out great.
Since I recently spent a Tuesday at EPCOT, I concentrated on Magic Kingdom and Animal Kingdom for this trip. I took my old Yashica 635 film camera with a small Canon point-and-shoot as a digital companion. I also had a small Lomography "simple use" camera with black-and-white 35mm film. Pictures from the Canon are in the gallery here. On Monday, I sent four rolls of film out for developing; I should get those pictures sometime early next week. I concentrated on black-and-white this time, but did shoot some color film at Animal Kingdom. I also kept two rolls of film to develop myself. I will do that this weekend.
Saturday, May 11, 2019
Over the last few weeks I have taken a number of trips and taken a lot of photographs. The first trip was to the McKee Botanical Garden in Vero Beach. I took this opportunity to try out the new Ektachrome film in my Nikon F4; scanned slides are in the gallery. McKee is a very beautiful and tranquil place, something that I really needed after losing Cirocco the Sunday before (see the April 21 blog entry below).
Next, a friend from work and his family took me to the Universal Studios theme park. It was my first time there and it was great to have an experienced guide; we had a great time. I was really excited about seeing Diagon Alley in person, having seen pictures of it many times online. The dragon on top of Gringotts is impressive; you can really feel the heat when it breathes out its fire. I got my first wand at Olivanders, but I suspect that I am really just a hopeless muggle. Pictures are here.
Then, last Tuesday, I took a vacation day to visit EPCOT during the flower and garden festival. I always love just tramping around at EPCOT, but I always get a little depressed when I see how the park has been dumbed-down and commercialized over the years. Disney could do better. Even so, the floral displays are wonderful and well worth seeing. Pictures are here.
Finally, today's trip was to the Valiant Air Command Warbird Museum in Titusville with the Camera Club of Brevard. It was the museum's annual fly-in/drive-in day and included a nice catered breakfast. It made for a great Saturday morning. If you like airplanes, especially military aircraft, this is a great museam to visit. Pictures are here.
Sunday, April 21, 2019
The sweetest creature on the planet is gone. Cirocco, the wonderful cockatiel that has shared my life for the last seventeen years, passed away in my arms tonight. She has been sick for some time; she was diagnosed with kidney failure and has been getting weaker and weaker. I am grateful that I was able to be with her and comfort her as the end came. I will meet you at the rainbow bridge, Cirocco. Rest in peace.